Care Squared Kids Services
Care Squared Kids works with NDIS participants and their families to offer cost-effective, comprehensive assessments, tailored plans and ongoing training to achieve NDIS goals for participants up to 13 years of age.
Care Squared Kids can also offer private allied health services, including occupational therapy, speech pathology and psychology/counselling. This can include assessments, intervention and group activities.
Easy-to-use

Realistic

Achievable within your budget
We Provide Two Service Models
Coordinated Care Approach
Our preferred service delivery model, research shows that children with support needs often benefit from a coordinated care approach that is consistent and seamless, to better facilitate the transition between health professionals, facilities and other supports.
Our team of clinicians work together to form a holistic, evidence-based collaborative assessment and intervention plan that meets your child's needs – as well as your family's preferences. Learn more below.
Intake Assessment

Treatment Plan and Intervention

Tailored, Ongoing Assessments and Reports
The Lead Clinician of the therapy team will complete an initial coordinated care visit with your child and family/carer, which will be shared with the multidisciplinary team. The Lead Clinician will walk you through the Schedule of Supports and Service Menu to identify your assessment, intervention and reporting preferences.
Benefits
Whole child approach
Reduced need for you to repeat your child's history and essential information
Richer clinical investigation
Family centered approach
Clear identification of current priorities for your child
Get in touch
Through careful collaboration with you and your child, the team will propose an intervention approach to achieve your child's goals.
One tailored plan for your child that includes integrated resources, goals and instruction
A copy of the agreed intervention plan, which you can share with key people in your child's life and use to chart progress
Simple, easy-to-understand 'next steps' for your family
Get in touch
Where appropriate, a dynamic assessment approach is used, allowing for a fluid evaluation process and time to build rapport with the child. Care Squared Kids will work with you to determine the best timing for the team report, so that information is accurate and up-to-date when you need it.
Benefits:
One team report that assists understanding of the overall development and the areas requiring support.
No juggling of recommendations from various professionals.
Options for reporting, based on what you need at the time.
Specialised reports for funding reviews and diagnostic investigation.
Get in touch
Single-Discipline Services
We acknowledge that – in some instances – your child may already be receiving services. As such, you may wish to access only one of Care Squared Kids disciplines, including:
Care Squared Connect
Care Squared Connect is dedicated to bringing unique therapies, group programs and events to life, supported by Care Squared's team of allied health clinicians.
Adaptable and flexible, our Care Squared Connect clinicians can provide services in-home, in-clinic and via digital platforms. Care Squared Connect events are suited to:
Participants looking to engage with other local NDIS participants in a fun and engaging way.
Carers wanting to connect with others to share experiences, support and enjoyment through positive psychology activities.
Support workers and support coordinators who want an opportunity to meet other disability workers through an enriching and supportive experience.
Organisations hoping to engage staff in clinically-managed events, designed to connect and deepen relationships amongst staff and key stakeholders.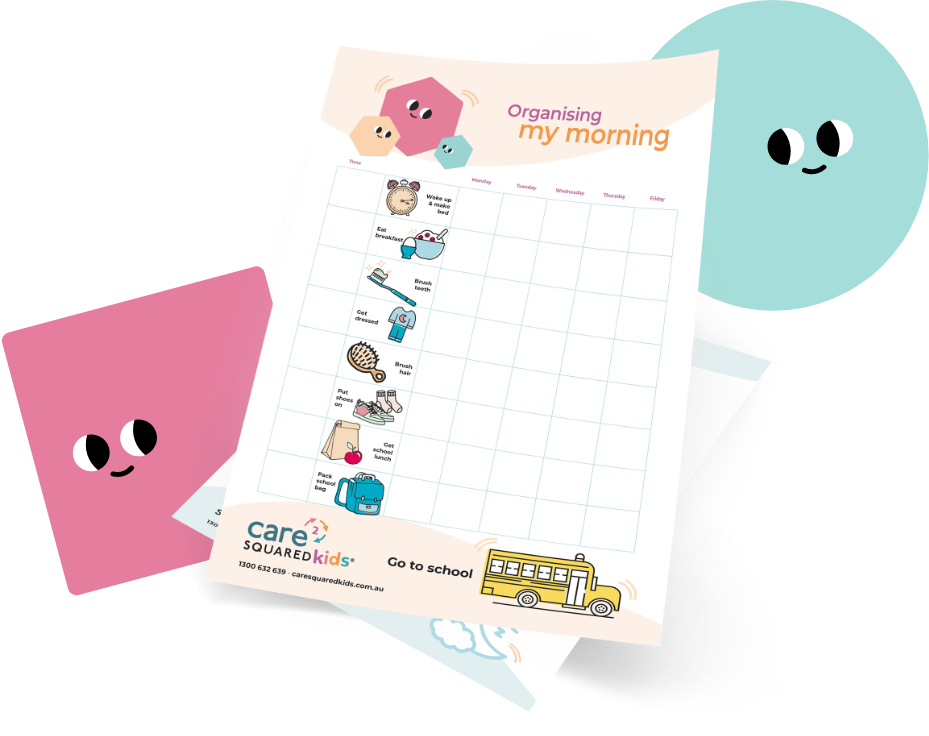 We've developed this resource to help you support your child
Free Weekly Routine Planner